Starting PreSchool
October 10, 2016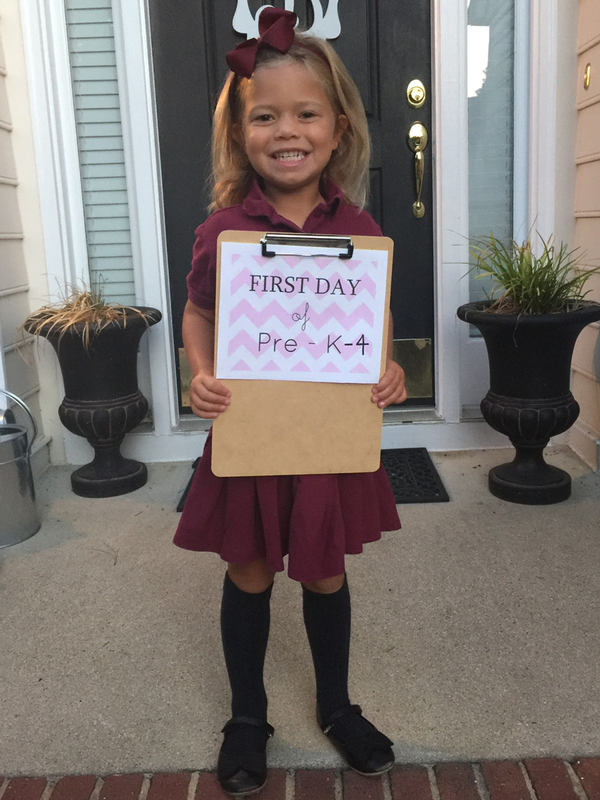 The time has come to send your sweet baby off to preschool! You have chosen a school and the date is set. Now what?!
Before they start:
You are your child's first teacher. Your job now is to prepare him/her for school. Start by meeting the teachers and visiting your child's classroom, so they may begin to visualize themselves at preschool. Most schools will have a special day for this. It is also important to go to any info sessions your school has so you may learn what to expect in their preschool year. Take that knowledge home to your child, so that he/she can begin to prepare for a new environment.
Another way to help ease the transition is to practice school skills at home. For instance, carrying your own bag, sitting "criss-cross applesauce," opening their own snack/lunch bags, as well as containers & water bottles. Practice using the potty and making sure they can get their clothes off and on independently. Practice laying on a rest mat. Practice sharing. Practice anything else you think they will need to do at school. This will help them to feel independent and capable, and they will be more successful at school.
Along with preparing for in-school routines, begin establishing the "new" school routines at home, such as a consistent and early bedtime. Feeling refreshed will help curtail tantrums and meltdowns, and they will be better able to cope with the expectations in class.
Once the year begins, have a play date with a school friend. This simple experience will help your child feel more comfortable at school. While you will leave, they will know at least their teachers and one friend.
The night before:
Don't leave everything for the morning. The last thing you want before school is a whirlwind of panic and rush. Instead, pick out your clothes, shoes, hair accessories & hairdo the night before. Set out their bag. Pick out and pack their snack/lunch. Plan your breakfast. And last but not least, snuggle a little and read a book about school/separating from parent.

The morning of:
Give yourself plenty of time to get ready slowly, have a nice breakfast, use the potty, and get to school without rushing. Add 15 minutes for traffic/gas stops to your usual commute time.

At the door:
Tell your child that you love them, give him/her a hug, tell him/her that you'll be back soon and goodbye. If they are crying, trust the teachers will take good care of them. You picked them for a reason. Most likely they won't cry for very long, as they will become interested in their surroundings. DO NOT SNEAK OFF. This may be easier for you, but it is harder for your child and can establish mistrust.
Now go and get your tissues. You'll miss them!

At pickup:
Give them a big hug! Point out that you did in fact return! If they feel like talking about their day, you could ask questions like, "What job did you do today?"or "Who did you sit next to at snack?"or "Who did you play with on the playground?"
Some kids may not want to talk about their day or can't remember what happened. Some kids talk best at bedtime.
Why is my kid so cranky?
Sometimes your child will be tired physically and emotionally and may act out at home for a period of time after starting school. This is normal. They may be unable to hold themselves together after doing so all day at school and are allowing themselves to crumble in their safe environment (at home with you). They may be practicing what they saw at school and want to see if you will react as their teachers do. Follow through the way they would at school, so as to form a consistent environment for your child. That being said, know that during this transitional time your child may need more attention and cuddles than before. Maybe read an extra book at bedtime or sit and play with your child after school, instead of going straight for your chores. This could fill their emotional buckets and; therefore, prevent the meltdowns.
Preschool will do wonders for your child. Enjoy these early years. They go fast. And know that your child's teacher loves them, too!
Related articles:
http://www.whattoexpect.com/toddler/photo-gallery/ease-daycare-and-preschool-separation-anxiety.aspx#01

http://www.parents.com/toddlers-preschoolers/starting-preschool/

https://families.naeyc.org/learning-and-development/music-math-more/13-tips-starting-preschool
Lydia Binanay is a mother of three Catholic schoolchildren (one being a preschooler, herself) who currently teaches in the Pre-K-3 classroom at St. Mary Magdalene in Apex, NC