Blog
Preventing the Summer Slide
July 05, 2017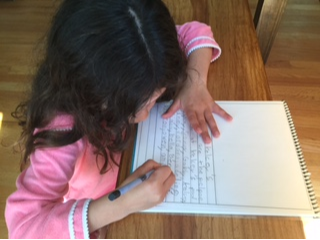 Do you love the days when you can put your toes in the sand and not micromanage your kids' homework or study habits? You aren't alone. Everyone is ready for summer. As a teacher, I encourage you to let loose, relax and be free….for a full week!
Sweet, sweet summer lasts about 9 weeks. That's equal to a full quarter of your child's school year. If your child takes a complete break for a quarter, the transition back to school will be a rough one. Instead, continue honing the skills they learned this year. Read, do math facts, write and draw. Learn some new facts. Socialize with friends.
I have some tips to share with you on how best to plan your anti-summer slide:
Prepare: Take that first week of summer to let the kids relax while you plan out your summer goals and don't be afraid to get the kids involved. This is the time to acquire materials, print sheets, plan themes and outings.
Make a bucket list with your kids of what they want to achieve or do over the summer.
Review their assessments (if they are little) or their report cards to see what areas of learning need some attention.
Here are a few ways to keep the learning fun all summer:
Make a weekly theme that excites your kids.
Young kids: dinosaurs, space, animals, their favorite Disney character, a sport, art, science, farm life (we've visited a dairy farm, a honey farm, goat farm, etc)
Older kids: book-based themes (like Magic Tree House, Harry Potter, Captain Underpants, Little House on the Prairie, Percy Jackson, Narnia, The Hunger Games, or any other book or series that your kids love), Finance, Manners, Cooking, Religion, Talent show, art show, or my kids' favorite--Lunch around the World (Cultures)
Have a weekly library day to get books based on said theme or just that next book in their favorite series. Don't forget those audiobooks! They work well to quiet squabbling siblings for both long and short drives. It's also a nice way to introduce a new/different series to your less flexible child.
End the week with a fun culminating event or field trip with some friends. For example, when we learn about finance, we end with a lemonade stand. When we learn about manners, we have a tea party and when we do lunch around the world, we invite friends to share a dish from another culture and lunch with us.
Have them journal about every fun event they do, including a picture to go with it.
For older kids, write a compilation of short stories or design and complete a comic book.
Make a scrapbook of your summer trips.
Traveling a lot? Complete a travel journal for all your fun excursions and call it a "passport". Make a map of your travels and have your children mark all the places they visit.
Spend a lot of time in the car? See my article "The Learning Car". http://school.stmm.net/the-learning-car/
Set up a puzzle table for the whole family to work on together.
Learn some life skills: laundry, dishes, yard work, tying your shoe, going potty.
Older kids could create a blog all about their adventures.
Struggling to motivate the sun-kissed student chillaxin' on the couch? Make a trade. You do a little work, I'll give you today's wifi password/remote/your technology. They'll hop to it quick!
Enjoy your summer. Have fun with the kids while they are home. But don't forget to hit the water slide, not the summer slide!
https://littlescholarsllc.wordpress.com/10-ways-to-prevent-summer-slide/
http://www.scholastic.com/parents/resources/article/developing-reading-skills/three-ways-to-prevent-summer-slide
http://socialbutterfliesnc.com/
Lydia Binanay is a mother of three Catholic schoolchildren (one being a preschooler, herself) who currently teaches in the Pre-K-3 classroom at St. Mary Magdalene in Apex, NC