Blogging for an Audience
October 25, 2016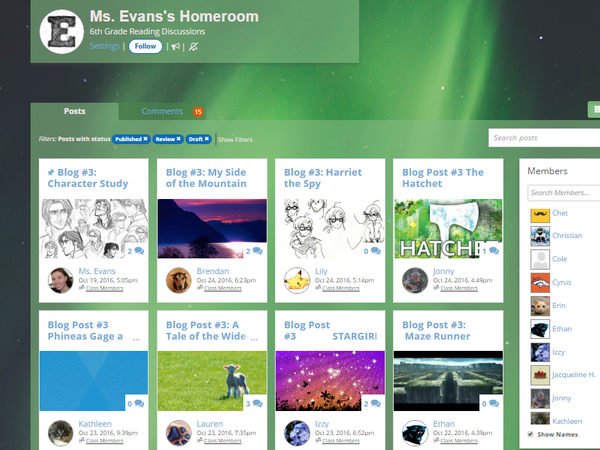 "Why?" is a question my sixth-graders ask me every day. "Why do we have to write this?" "Why does it have to be a whole paragraph?" "Why can't we do backflips at recess?" The answer to the latter is obvious, but the first two questions are more difficult to answer. Generally, they have to write whatever "this" may be in order to develop their skills or knowledge and to allow me to critique those elements. But schoolwork doesn't have to be completed exclusively for the teacher. Changing up the audience for student work keeps kids interested and on their toes, especially when the audience is their peers.
My class uses a student blogging platform called KidBlog to write about the books they read independently and respond to one another's posts. Blogging gives students a live, authentic audience for their analyses, thoughts, and opinions, free from any distractions that could pop up in a classroom discussion. And best of all, everyone's voice can (and must!) be heard.
One student recently read I Am Malala, and the comments that stemmed from her analysis of the book blew me away; several of her classmates discussed the worldwide need for gender equality and even brought up their own Catholic faith while respecting others' religious beliefs, completely unprompted by me. Students reading The Hunger Games examined whether the policies of Panem's government were justified, ultimately bringing up connections to today's government voiced by students who both had and hadn't read the book. Reading classmates' blogs gives all students the chance to ask questions, make connections, agree or respectfully disagree, and, of course, hunt for their next book!
Many students' voice and tone also change when they're writing for their friends, showing that they are consciously or unconsciously exercising their range in writing for different audiences. You can find more comedy, sarcasm, and personal anecdotes than you may hear in class, and these entertain me as much as they entertain their intended audience.
A 2005 study entitled "Developing a Sense of Audience" found that "involving students in consideration of audience encourages the students to become thoughtful and appreciative of what they are doing and learning," and we have only strengthened these findings in recent years in education. Blogging in any subject can help students improve their communication skills and consider their writing in a different way than they might if they were writing for an imagined audience or their "no-fun-at-recess" teacher.
Many, Joyce E. and Susan D. Henderson. "Developing a Sense of Audience: An Examination of One School's Instructional Contexts." Reading Horizons, vol. 45, no. 4, 2005, pp. 321-348. .
Sarah Evans teaches 6th grade English Language Arts, and this is her 4th year at StMM. She graduated in 2013 from the University of North Carolina at Chapel Hill with a B.A. in Elementary Education.