Halloween Event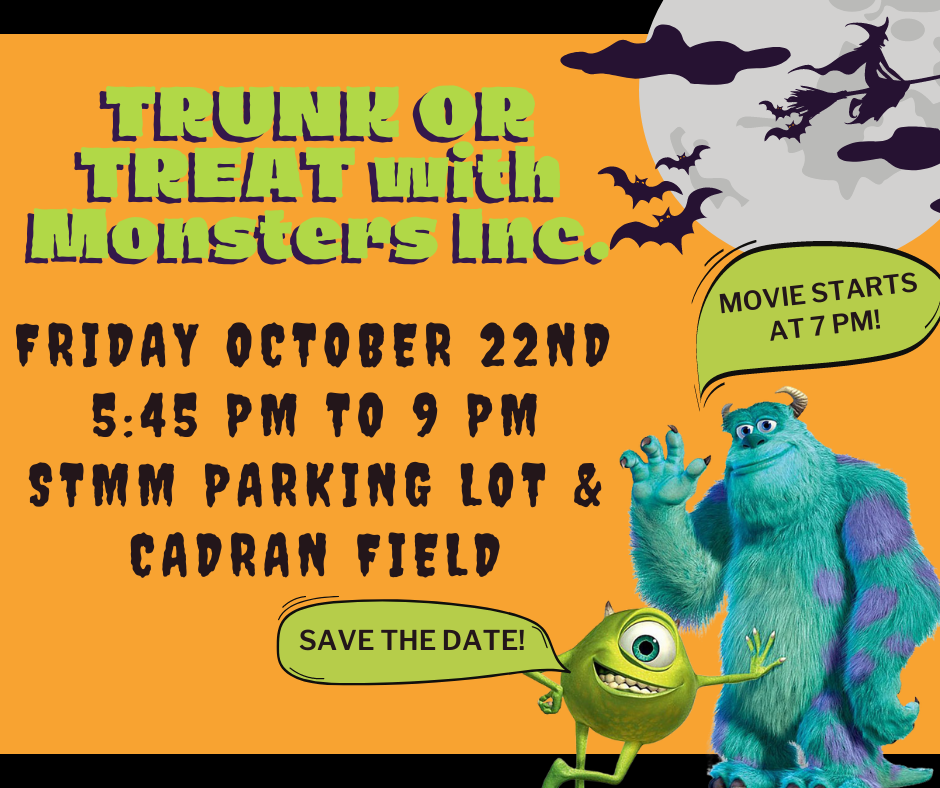 The PSO is hosting a fun and FREE family night of Trunk or Treating and an outdoor movie on Friday, October 22. Trunk or Treating runs 5:45-6:45pm in the school parking lot, and Monsters Inc. will begin at 7pm on Cadran Field. In the PSO's Activities Poll, Trunk or Treating and an outdoor movie were two of the most popular options, so we combined them into one amazing event!
All children must be accompanied by an adult. No drop offs, please!
Come hungry! Gettin' Sauced in the City food truck will be on site for dinner from 5:30-8pm. Feel free to bring your own drinks and nut-free snacks for the movie, or grab dinner for your family and bring it up to the field.
Details for Trunks:
If you want to participate as a "trunk," sign up here to reserve your spot. If you have an elaborate display, sign up for 2 spaces. Be creative! We kindly ask that you arrive between 5:00-5:30pm and enter the school lot through the TOWNSIDE DRIVE entrance. We want to keep our trunk or treaters safe, so you'll need to park by 5:30 so as not to drive through children. PSO volunteers will be on site to aid in parking. We'll park concert style, meaning our volunteers will ask you to pull down to the next available spot, leaving no spaces between cars. If you want to park with a friend, please meet somewhere outside the school lot to ensure you turn into the parking lot together.
Bay 1 of the parking lot (near the Townside Drive entrance, running along the playground and Mary Garden, where you exit carpool) is designated for Pre-K and Kindergarten families. If you sign up for this section, no scary trunks or costumes, please.
See information here on approved candy and snacks. Since our school is a nut free zone, only safe items on this list may be passed out to trunk or treaters. Non-food items such as stickers, pencils, bracelets, etc. are also approved. Plan on at least 100 children.
Details for Trunk or Treaters:
If you are participating as a trunk or treater only, please arrive between 5:45-6:45pm in costume with a bag for lots of treats! Enter off Apex Barbeque Road and park in the CHURCH LOT, like you enter carpool. No signs ups required for trunk or treaters.
Movie Details:
Monsters Inc. will be shown on a giant screen on Cadran Field starting at 7pm. PSO volunteers will pass out glow necklaces and bracelets to help us see children in the dark. You are welcome to bring your own flashlights as the parking lot and field get dark, but please no flashlights during the movie. You'll have a bag of trunk or treat goodies, but you're welcome to bring drinks or other nut-free food from home for the movie. Feel free to bring a blanket or low lawn chairs; taller chairs will need to be placed towards the back of the field.
Pre-K Crafts and Games:
We'll have crafts and games for Pre-K students in the Activity Building from 6-7:30pm. We know it might be a late night for our younger Mini Monarchs, so they have their own fun area that ends earlier, although they are also welcome to watch Monsters Inc. too if they can make it! Pre-K students accompanied by one parent only in the Activity Building, please. Masks required of all students, parents and volunteers in the building.
Information for Volunteers:
We need LOTS of parent help to host this all-school event, especially since it'll be dark at the end. Click here to sign up to volunteer, see descriptions below.
Parking Directors: help cars park concert style (i.e., pulled down to the next available spot, no spaces between cars); will need to arrive a little before 5, but shift will finish a little after 5:30 so you will be free to enjoy the fun! Would love to see some dads volunteer! No children as helpers; adults only. The PSO will have some reflective vests available, but please bring your own if you have one. PSO volunteer Bethany Meighen will supervise the parking; she'll reach out to volunteers before the event.
Pre-K Activities: all volunteers in the Pre-K area in the Activities Building need to be C Level Safe Environment certified. Masks are required in the building. Help our adorable Mini Monarchs do crafts and have fun! Adults only; no teens or other children. This craft area will be for Pre-K only. Since some of our Pre-K families are not yet Safe Environment trained, we might need help from other C-Level parents, even if you don't have a preschooler.
Bathroom Monitors: similar to chaperones at a dance, we need parents to help us monitor the foyer of the Activity Building to ensure people enter the restrooms only and don't wander the building. Masks required in the building.
Field Monitors: help us monitor the two entrances/exits to the field on the Church side (between the two athletic fields) and the Townside Drive side (up the brick steps from the school lot). These areas get dark, so it's a good idea to bring a flashlight. These parents will also keep an eye on the back of the field to ensure students don't wander off during the movie. Role similar to a dance chaperone watching the doors.
Clean up: we will do a quick trash sweep of the field on October 22 following the movie, but it'll be dark. A crew will return at 7:30 am on Saturday, October 23 to clean up any remaining trash from the lot or field before the tee ball game at 8:45 am. Teens are welcome to help with clean up!