Curriculum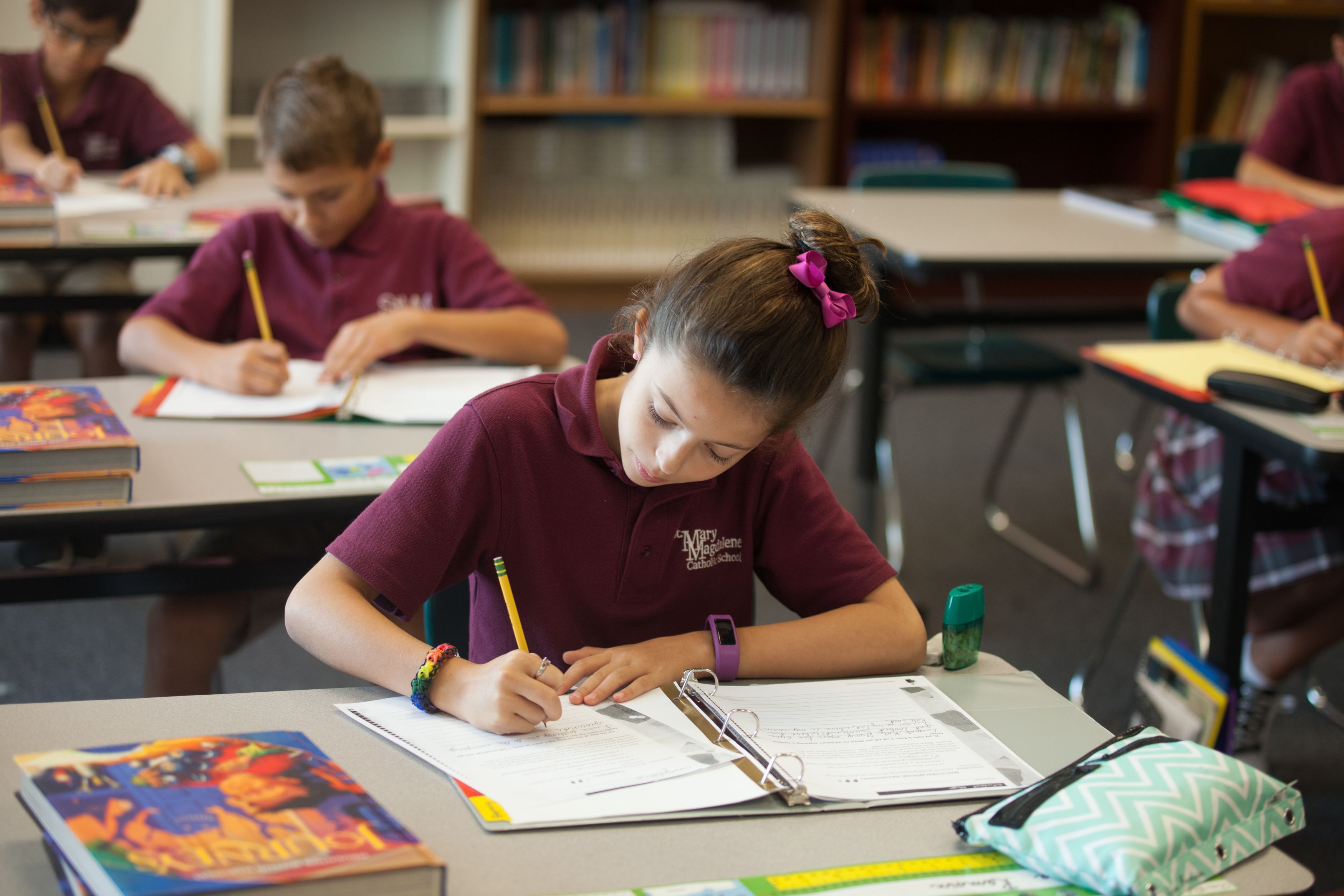 St. Mary Magdalene Catholic School (StMM) is proud to be a school that values the individual needs of our students, while fostering a commitment to our academic and spiritual community. We follow the approved curriculum of the Diocese of Raleigh, which is based on national and state standards. Additionally, our teachers and staff have gone one step further by implementing both an accelerated instructional program and individualized learning plans for those who qualify.
Our accelerated instructional program challenges the needs of all students in a variety of ways. Beginning in first grade and continuing throughout their years at StMM, students are working with books and materials that are one grade level above in mathematics, reading/vocabulary, and writing. This program allows every student to reach his or her full potential.
StMM has found over time that, together with the support of parents and teachers, all students are capable of meeting these goals. Many of these students become honor students in their middle school years, as a result of their hard work and dedication. For students requiring an individualized or modified learning plan, their needs are met through several personalized programs. Whether by working with our outstanding certified resource teachers, our parent volunteers, or teacher-made instructional modifications, all students are given the keys to success at StMM.
As a result of this accelerated instructional program, almost 90 percent of graduating StMM students enter high school having completed one or two years of high school math, or earn placement in up to three freshmen honors classes. Additionally, based on the scores of our annual Iowa Tests of Basic Skills (ITBS), our graduating students read 3 to 5 years above grade level and are considered outstanding writers. They are capable of using any technological means to do research work and expand their basic knowledge of the curriculum and the world around them.
In 2012, the Diocese of Raleigh revised the curriculum for all Catholic schools in the area of Language Arts, Math, and Science.
We are accredited by AdvancED.
StMM is very proud of its staff and parents who continue to provide our students with the learning experiences that are needed for them to be a successful beyond their time here. We invite you to learn more about St. Mary Magdalene Catholic School.