2023-24 Admissions
Are you interested in a Catholic Education for your child next school year?
You can either schedule an individual tour or join us at our Open House.
RSVP HERE to attend Open House.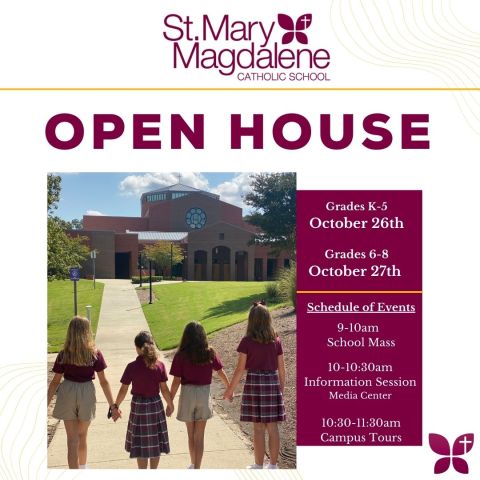 2022-23 Admissions
Currently we are accepting applicants for Kindergarten and Sixth Grade.
Thank you for your interest in Saint Mary Magdalene Catholic School where we pray, we learn, and we care. Interested in becoming a Monarch? Here's how:
Admissions Process
Contact Lisa Portland, Recruitment & Marketing Officer, at 919-657-4800 x 7296 or email
Schedule your Tour
You will need to acquire and upload the following documents to your application. If you have any trouble in doing so, please email them to
Brooke Kingston
.
Birth Certificate (Birthday cutoff is August 31. example: to apply to Kindergarten you must be 5 BEFORE or on August 31)
Catholic Baptismal Certificate (if applicable)
Current Report Card
Standardized Test (EOG/IOWA grades 3 and up, MClass/IStation/Dibels grades 2 and lower.)
IEP/504 plan/Psychoeducational Testing (if applicable)
Teacher Referral (Grades 1-8), Kindergarten Readiness Assessment (K)
Parish Ministry Form (if applicable) StMM school does not determine your eligibility for the Catholic-affiliated Tuition rate. That is determined by your Catholic Parish based on their own requirements. You will submit this form to your parish who will then send it to StMM school.
NC Health Assessment & Immunization Record (can be submitted after applying if necessary)
$100 NON-REFUNDABLE fee
After submitting your application, you will be contacted to schedule a Student Shadow Day or Webex Interview (Out of Town Applicants)
Students in Grades 5-8 will complete a short written assessment (writing prompt and math questions) & participate in a Dean Interview during their Shadow Day.
Offer letters will be sent out in early February.