St. Mary Magdalene Catholic School PSO
---
The Parent School Organization (PSO) is comprised of all parents/guardians of St. Mary Magdalene Catholic School students - every parent/guardian is a member! This group of dedicated volunteers works to build community within the school by sponsoring fun family activities, offering volunteer programs that enhance our Catholic faith and coordinating fundraising efforts to benefit the school, students and teachers.
Please join us in bringing the school's mission to life for our families, students and teachers. We have a range of volunteer activities to accommodate all schedules. Look for volunteer opportunities in the PSO section of the school's weekly newsletter on Wednesdays and in the school's social media posts. The PSO plays an instrumental role in building our school community. We would love to have you join us!
Erin Bonasso
President
_____________________________________________________________________________________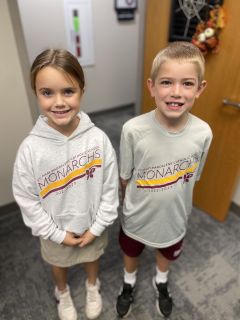 Monarch Monday Impact
2021-22 School Year
The PSO is thrilled to share the impact of the 2021-22 Monarch Mondays campaign with our school community. We were able to benefit all grade levels from Pre-K3 to Grade 8 with your support of Monarch Mondays! Click here to learn more about how the funding was applied in numerous ways to enhance the Arts and Specials programs. We thank our generous sponsors and teacher shirt donors- all this work could not have been done without you!
Volunteer for a PSO Committee
---
Parent involvement is a great asset to the StMM dynamic. The PSO invites you to volunteer your time and talents throughout the year. We value any time or treasure that you are able to contribute and appreciate the dedication that you show to our StMM community. We understand how hectic life can be and hope you see your volunteering as a great example to your children that can only enhance your entire family's experience at StMM.
The PSO has many great and different opportunities to help and serve, and we are sure that you will find an area that fits. The PSO does so much throughout the year, and it wouldn't be possible without volunteers, so please consider giving some time, big or small, to any of the vast opportunities we have available. For more information or to sign up to volunteer for one of our committees, please email erinbonasso@gmail.com.
---